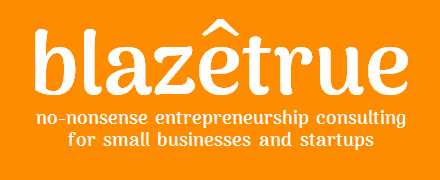 Prince Peter 26th Feb, 2018 updated
I am the founder of Blazetrue.
Let's talk.
I want to talk about why you are here. But, maybe you first want to know a little about me, and why I am here!
My values define me. My highest values are: Integrity. Intelligence. Passion. In that order.
I am also a serial entrepreneur, who has founded 10 ventures and worked in a total of 14 startups.
11 of them succeeded. 3 of them failed.
Why am I here?
Because I am passionate about entrepreneurship and very much wanted to use my experience and skills to offer ethical, no-nonsense business consulting for entrepreneurs - specifically for startups and small businesses. I also welcome fence sitters!
And so I founded Blazetrue to partner with, learn from and mentor, independent entrepreneurs like you - the heroes of our world.
I will enable you to shape your ideas, processes, and resources better, so you can reach your goals faster. That is possible because I will:
1. unearth the intricate uniqueness of your business by obsessively pursuing ideas, knowledge and questions.
2. relentlessly focus on the principal architects of your business - the entrepreneur (yes, you!), the idea, the market and the execution - to identify your most decisive advantages and potential hazards.
And I back it up with the Blazetrue 100% happiness warranty.
You are an entrepreneur. Or want to be one. (Who is an entrepreneur?)
You are honest.
You are passionate about your business, and want to improve it.
You are open to change, and understand that unless your business is renewed, your life might not progress as you desire.
And you are ready to work hard to make the change happen - within yourself and your business.
You are here seeking ethical, no-nonsense entrepreneurship consulting to improve your business and your life.
Six Reasons Why Not to Choose Blazetrue
Now that we are introduced, the next expected step would be my sales pitch: about why Blazetrue is perfect for you.
Actually, I assure you that partnering with Blazetrue would be a far from perfect move for many people out there. These are the main reasons:
1. Clear Values: If you do not believe in the importance of integrity, intelligence, and passion, please do NOT work with Blazetrue. Choosing partners who don't share your basic values is a recipe for disaster.
2. Entrepreneurs Only: While I sometimes also interact with other stakeholders, my primary point of contact will always be you, the entrepreneur. If that is not possible, we cannot work together.
3. Limited Scale: My passion, skills and exposure are best suited for independent startups and small businesses: 0-100 employees and ₹ 0-100 crores annual revenue. If your scale is much larger than that, I may not be your best choice.
4. Lazy Secrets: My exposure to successful entrepreneurs is limited to men and women who have worked hard to make it happen. If you are seeking the secret recipe for succeeding without committed effort, I will sadly disappoint you.
5. Independence Essential: I work with independent entrepreneurs who aim for happier customers and higher profits. I do not understand, or work with, funding focused businesses aimed at gaining (more) funding or making (potential) investors happier.
6. Non Negotiable: I do not negotiate. On values. On quality. On pricing. If negotiation is integral to your life, Blazetrue is not for you.
Six Reasons Why to Choose Blazetrue
So, here's my sales pitch. At last!
If you are an entrepreneur whose beliefs and passions reflect mine, I would be delighted and honored to partner with you.
It might be the best move for you too, because:
1. Integrity Leads: Integrity is my foremost core competence. When you partner with me, you won't be wasting your time and mindspace, doubting the honesty or intent of your consultant. Ever.
2. Done It: As an entrepreneur you already know that theorizing about business and actually doing it are worlds apart. I know the joys, pains and challenges of starting and growing a business. I have done it. Again. And again. And again. 10 times.
3. Unique Value: I truly know that each person and each venture is unique: with its own distinctive set of challenges and possibilities. That simple realization is invaluable - and rare.
4. Passion Matters: My passion for entrepreneurship is deep and abiding. I am not punching a clock or scrambling to meet quarterly targets; this is what I desire to do. Passion matters.
5. Limited Life: We all have limited time to live our lives. If your beliefs and values align with mine, why waste time evaluating or trying out iffy options?
6. Non Negotiable: I do not negotiate. On values. On quality. On pricing. If you understand the value of that attitude, you will know the value of my service.
Make Your Decision
My entrepreneurial exposure and life experiences have taught me that only one person can really change your business: YOU.
You are the hero of your entrepreneurial story - and any change will happen only when you decide to make it happen. Mine is purely a supporting role.
So, decide whether or not to partner with me, by asking yourself two questions.
1. Are you are motivated enough to make changes - to your self and your business?
2. Will Blazetrue services help you and your business?
Take your time, think deeply, and only if the answers are yes, get in touch by simply mailing me at prince at blazetrue dot com including some basic info about you and your (proposed) startup or small business. I will take it forward from there.
While you are making your decision, feel free to read some of the best articles on entrepreneurship and business freely available on the internet.
Thank You
Time is our irreplaceable treasure. I am grateful that you gave me your time and your attention to make this first communication between us possible.
To me, entrepreneurs are magical beings who expand and enhance the world we all share - through their ideas, products or services. So, I am further grateful that you are an entrepreneur who makes my world better - in small ways and big - often without me even realizing it.
Thanking you again, and signing off with my best wishes for your entrepreneurial venture,


P.S. each word you have read above is written by me, Prince Peter, and I take personal responsibility for all I have said.



© copyright 2018. all rights reserved. blazetrue.com